The adventure of the Global Education and Skills Forum in Dubai!
Revisely, the online tool that helps teachers to give better feedback on texts to students, was one of the 50 start-ups selected for the EdTech competition 'Tomorrow' in Dubai. The event was organised by The Varkey Foundation and held at the renowned Global Education and Skills Forum 2018. Read more about our experiences in this blog!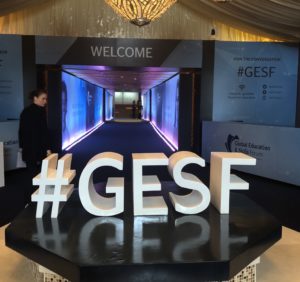 We were truly amazed when we arrived at the Global Education and Skills Forum. What a jaw-dropping location! Moreover, we immediately felt honoured to be part of this important event which discusses and ultimately shapes education globally.
During the event, many discussions took place on how to prepare young people for the world of 2030 and beyond, what the common knowledge base for education will be like, and how this knowledge relates to core values such as participation, sustainability, responsibility and creativity.
Already on the first day of the GES Forum, we got to work by giving a pitch to the jury. We presented our idea for our new tool: Mundily. Looking at the global educational situation, we are convinced that the mature platform for feedback on texts of Revisely can also benefit those students who currently don't have access to the same education as others. With Mundily, a non-commercial platform, we would like to create a 'marketplace' to match those students with teachers/correctors who in turn can help them improve their texts.
We only had five minutes to pitch, which was followed by a series of questions from the judges. Unfortunately, we did not win the Next Billion EdTech Prize 2018. However, we did receive a lot of positive feedback from the audience and got into great conversations with other EdTech entrepreneurs, investors and policymakers from all over the world. The GES Forum offered us many new insights in how to prepare young people for the future. Moreover, we are very excited to continue our plans for Mundily and increase the access to education for everybody!