A tool made for

and by teachers! 
Easy to create assignments
Instructions and evaluation information are very easy to add in Revisely. This provides a clear overview for students with the steps necessary to complete the assignment successfully. The more detailed the instructions for a writing assignment are, the better the students' texts are in response to that assignment.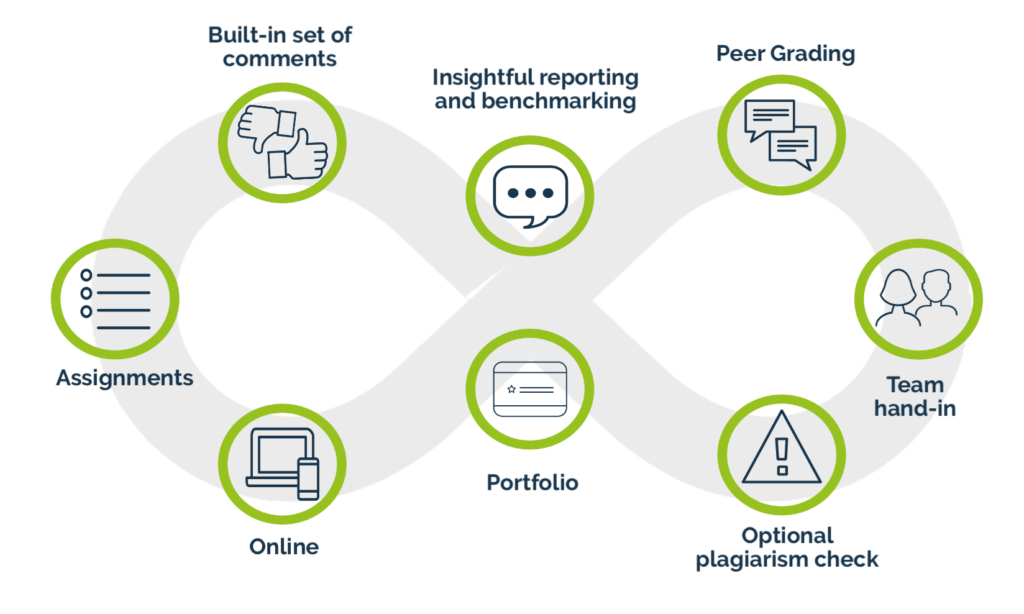 Manage assignments
The tool supports teachers during the entire process of setting, correcting and giving feedback on assignments.
give more insightful Feedback
The extensive built-in set of comments and observations (both positive and negative) cover all aspects to improve students writing skills.
Of course, teachers can also easily add their own comments to the text and save them in the database in order to easily re-use your feedback. This makes Revisely suitable for most courses at schools or universities.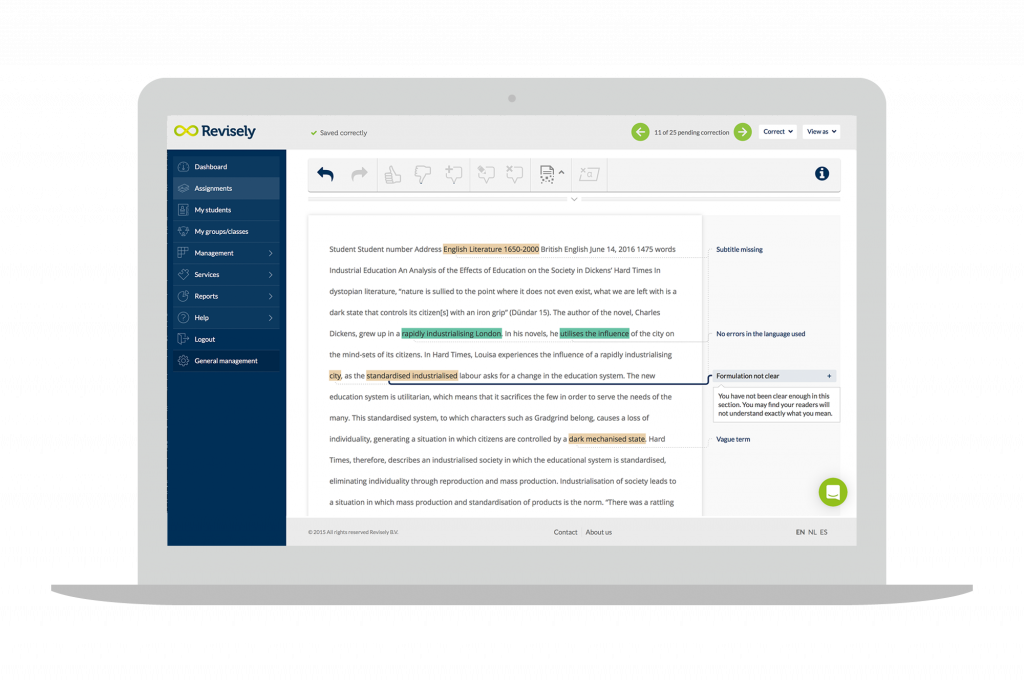 Watch how Revisely works and what possibilities it could offer you as a teacher

More feedback
Peer review is not only a process for peers to determine grades for one another. The value lies in the extra feedback that is received but also in giving feedback to others.

More knowledge
When students evaluate the work of their peers they memorise subject matter better and acquire new knowledge. They need to be able to understand the study material and reflect on it.

More engagement
Having some ownership of the assessment process increases engagement with the subject. More engagement makes for more motivated students; a key success factor in increasing learning efficiency.
Team hand in for students
This feature gives students the possibility to hand-in an assignment together as a team. They combine expertise, allowing also more creative solutions to a problem. This is important as an 21st century skill since society advances, and so will the complexity of its manageable conflicts. Therefore, it is important to focus on students' ability to devise effective solutions with good collaboration.
Plagiarism check
Add the plagiarism checker for only a small amount of money to your Revisely account and check received texts of students easily with the built-in checker in Revisely. This is offered by our partners at Urkund.
Dossier and reporting tool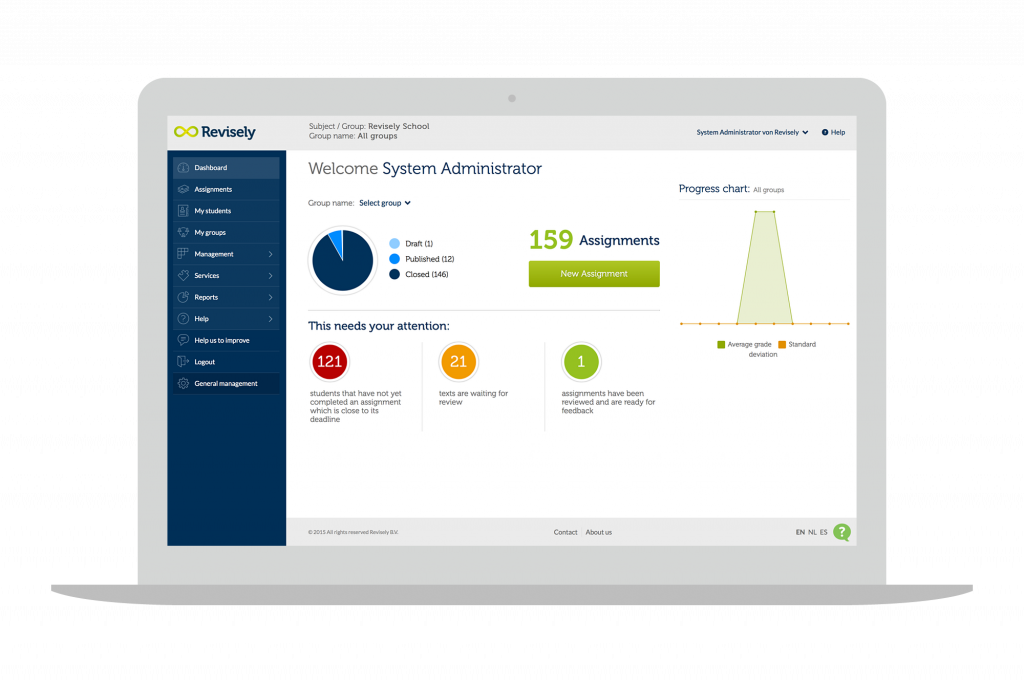 The teacher receives a notification whenever a text has been handed in or when it is time to correct one.
Revisely is a modern form of writing dossier or portfolio. Students can always consult their progress and improvement points. They can zoom in on specific aspects that they would like to improve.
Full reports can be generated in Revisely offering students insights into what they hand in and the given feedback of the teacher.
Correct as a team
Sharing the correction of texts with other colleagues is another possibility within Revisely. Hereby, teachers can outsource the correction of their students' texts to another teacher of their school or university. By correcting texts as a team expertise can be combined and time can be saved.
Devices

Website
Teachers and students can access Revisely online anywhere and at any time, including laptop, iPad, desktop or even phone. No installation required.

Online App
Whether Revisely is used at home or in class. Revisely has everything you need in a single, easy-to-use app online in your web browser.

Phone
It is easy to stay in touch with students and provide their grades with valuable feedback.