Peer grading – give feedback yourself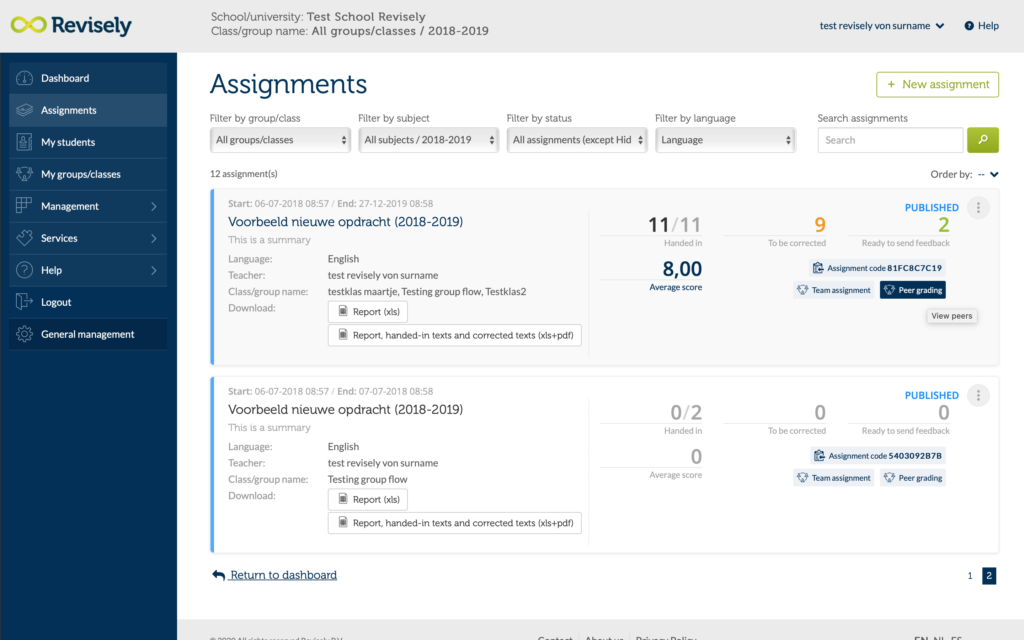 When you want your students to learn from and with each other. And learn from writing a text, and from giving feedback on other texts, you can use the Peer grading feature in Revisely. Here you create a new assignment as was described earlier. The only difference is that you select at 'type of assignment' for peer grading and that you give extra instructions for your students so they know what is expected of them when doing a Peer Grading assignment. The system automatically combines a student who corrects together with a student who hands the text in. An assignment created with the Peer grading option looks like this:
The process of the notification of an assignment until handing in and correcting is the same as for an ordinary assignment with one difference: the student appointed as peer evaluator will receive a message as soon as the text he/she has to check is handed-in. That's the sign that he/she can start the peer feedback. The peer provides feedback through open observations and does not use the database. The peer can also assign a grade to the work of a fellow student. When the peer has finished correcting, he/she will also be ready to send feedback. When the feedback has been sent, the other student can view the text with the given feedback.
To see the feedback that the peer has given to the other student, go to the assignment and view the list of texts. When the peer feedback is given, you can click on the name of the checker as is shown in the picture below. Click on the name and you will immediately see the text and the feedback.
The text and the feedback of the peer grading look like the following. You can now continue to review the text as a teacher and provide feedback or return to the other texts.
How do you give good peer feedback?
4 tips to give good feedback:
Give your feedback based on the assessment criteria of the assignment. Base your feedback on this and also refer to it.
Provide clear feedback; concrete and supported with arguments.
Let your feedback include suggestions for improvements. So be sure to indicate where your fellow student needs to adjust something to improve the work.
Talk to each other about the feedback. Ask questions when feedback is not clear.