Have texts delivered as a PDF, Word, PowerPoint or Excel
Create an assignment
You can give students the opportunity to submit their texts as a PDF, Word document, Excel or PowerPoint. You can choose this option when you create a new assignment.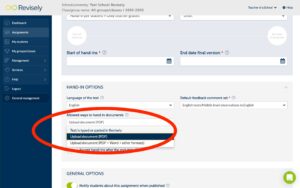 Handing-in texts
The file can be added in different file types. Best is, however, to hand-in the document as a PDF to make sure that the lay-out remains the same after uploading it. 
PDF:
To offer a file in PDF format, it must meet the following criteria:
A4 portrait
Maximum of 15 pages
Must contain text
Less than 1 MB size
Flat PDF (without 'layers' or 'link separation)
Recommended: at least 1.5 letterspacing
Forms are not accepted
Only a thumbnail of videos is shown
No other unusual PDF formats
In the future, we can also handle longer and bigger documents.
Word, Power Point or Excel:
It is also possible for students to submit a Word, Power Point or Excel file. Please note that text or images can shift or look different. To prevent this, it is now possible to embed fonts within your Word, PowerPoint or Excel file. Click here for an explanation for Microsoft and here for Mac users.
If a Word (or similar) document will be handed in, make sure that the end of a page is not ended with <enter> but with a 'page break'.
When students submitted the text, they immediately see a confirmation on the screen. If we were able to process the text well, the student will receive an email from us. They can then view the text they handed in as you will see get to see it.
Correct texts and provide feedback
Correcting texts and providing them with feedback is no different from texts that have been submitted in another way.
Good to know:
Correcting a PDF document is best with a recent version of Chrome, Safari, Firefox, Edge or Internet Explorer.
On old computers, correcting a PDF document can be a little slower.
The longer the text, the slower it seems to post comments.
After submitting the text it takes a while (several minutes) for the text to become visible.
At the moment you cannot link comments or observations to pictures themselves, but you can link them to words that surround it.