Revisely met some very important guests at the Frankfurter Buchmesse!
'This is what we share.' This was the slogan used by Flanders and the Netherlands who were the guests of honour at the biggest book fair in the world, the Frankfurter Buchmesse. A great opportunity for Revisely and other start-ups to promote innovative Dutch education technologies at home and abroad.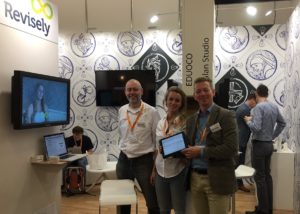 The Frankfurter Buchmesse was held from 19 to 23 October 2016. Besides being the biggest book fair, it is also the most important international platform for educative media. King Willem-Alexander of the Netherlands and King Filip of Belgium opened the Dutch-Flemish pavilion. Revisely was present at the pavilion together with the 'Dutch School' consisting of 10 different start-ups.  Later that week, Jet Bussemaker, the Dutch minister of Education, Culture and Science, visited our stand where we explained her Revisely's correction tool.
The five-day event drew more than 275.000 visitors. It was a successful event and great experience for Revisely's team! Therefore, we hope to see Revisely soon in more and more countries. Will be continued!